Compassionate, Effective Psychotherapy and Medication Management



| | |
| --- | --- |
| Posted on 16 April, 2019 at 13:48 | |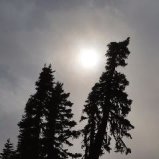 SMOKE IN TREES
Roots entwined
To make one mind.
Once an old wise soul,
Now a dark and gaping hole.
Relentless flame, so hot and bright,
Burning through both day and night.
Now gasp and choke,
With ash and smoke.
Her roots reach deeply whisper "Why?"
While branches stretch with love to sky.
Gently, softly, touch her skin, 
Shocking, sadness flowing in.
Still, does she softly say "Let go?"
Can it be? I don't know, I don' t know.
I've always sought relief in trees,
Perhaps now this they need from me.
Let go! Let go! Surrender to the Majesty and Know Eternal Flow.
This I know, This I Know, it Has, and Is, and Always will be so.
Photography and Poem by David Dybdal
Categories: None
/